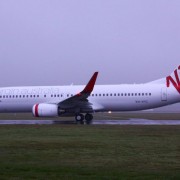 Air New Zealand has sold a 19.98% stake  it holds in Virgin Australia to China's Nanshan Group. This in effect offloads virtually most of Air NZ's stake in Virgin Australia as reported in The Australian (10 June 2016). Under the deal, which remains subject to regulatory approvals, the shares have been sold at a value of AUD 0.33 per share for a total of AUD 232 million.
"We believe Nanshan Group will be a very strong, positive and complimentary shareholder for Virgin Australia, The sale will allow Air New Zealand to focus on its own growth opportunities, while still continuing its long-standing alliance with Virgin Australia on the trans-Tasman network." stated Air New Zealand chairman Tony Carter.
The Nashan Group is privately owned company and has its own airline, Qingdao Airlines.
The Nashan deal is in addition to Virgin Australia's recent alliance and share holding deal with China's HNA (Hainan) Group which will see the Australian carrier offer services to China and Hong Kong in 2017. The HNA Group will have a 13% stake in Virgin Australia with shares purchase at AUD 0.30 per share.